Carter
When my wife and I opened the salon in 2002, our biggest goal was to create a unique atmosphere where we could create cool hair and give our clients a variety of services unlike any other. Our salon is located in an Old Mill building on the Milwaukee River to give everyone a beautiful view, while giving them a stellar experience!  With 27 years of working with mostly women, if I'm not at work you can find me outside hunting, enjoying the quiet!  Come on in and meet our amazing staff and enjoy your entire experience, with a few laughs along the way.
Lisa
I have been a hairstylist for 33 years!
Carter & I met at a previous salon where we were both working in 1997. Got married & opened carters salon in 2002!
I am extremely proud of the small business we have grown with so much support from our long-time clients and many years of invaluable staff!
I have 3 children and have recently become a first-time grandparent to sweet Magnolia Marie.
In my off time I enjoy being in the outdoors, spending as much time as possible with my family and many other fun hobbies to keep myself fit & healthy!
Amy
I have loved loved loved being a stylist for 20+ years now. Fourteen of those years have been spent with my amazing work family at Carters Salon.
In those years I have traveled to broaden my education & experience in Las Vegas, Minnesota, New York, & Chicago. I've also attended many in-salon classes and local classes to stay current on trends and techniques to better serve my guests & give them a look they will feel like their best self in.
Some of my favorite hair services to perform are specialized hair coloring, hair cutting & styling on all hair lengths, & hair extensions.
My passion in this industry is to serve my guests hair needs, & help them to take their style vision to the next creative level. I love helping my guests to achieve the perfect look for their lifestyle.
My hobbies include traveling, camping, hiking, reading, gardening, being artistic, spending quality time with my family & I love being outdoors.
Carlee
I've been a stylist here at Carters Salon for almost 5 years. I was born and raised in Menomonee Falls and went to Menomonee Falls High School. I then followed my dreams of doing hair and studied at VICI Beauty School in Milwaukee. I love doing balayage/ombres, colors, cuts, and updos, and I am always up for a challenge. I love getting to know my clients and connecting with them on a personal level! In my free time I love spending time with my family and going up north.  I look forward to meeting you!
Dani
For as long as I can remember, I have wanted to pursue a career in hair and for almost 6 years now I've been living my dream here at Carters Salon! I have the pleasure of meeting so many different people in my chair with all different ages and personalities. I try to conquer their hair needs so that they can leave the salon feeling beautiful and welcomed. I enjoy performing ALL hair services, but I specialize in BLONDES- which include balayage and highlights. In my free time I enjoy spending time with my family and friends, and I especially love to travel around the world with them! I would love to meet you in my chair and give you an amazing new "do"!
Kayla
While working at Carters Salon the past 13 years, I have been to California, Las Vegas, New York, and Florida for training. I enjoy dry cutting and brow shaping. I love customizing your hairstyle to match your lifestyle. You are my number one priority while you're in my chair. My goal is to make you feel relaxed and give you a boost of confidence when you leave the salon. 
Lauren
Hi, my name is Lauren, and I am a 2012 graduate of the Aveda Institute of Beauty and Wellness.  I have really enjoyed growing in my career as a stylist for the past 11 years.  In that time, I have been fortunate enough to build up a wonderful clientele.  I have always loved and been interested in all that the beauty industry has to offer.  I am passionate about bringing out the beauty in others by creating a custom look for the individual and putting a smile on their face. I look forward to seeing you in my chair! 
Lynet
I am a stylist and the manager at Carters Salon since we opened in 2002. With 36 years of experience (WHAT!!!)  My education has consisted of classes in many places: several color classes in New York, razor cutting in California, color/product knowledge in Arizona, curly cutting in Minnesota, along with a trend show in Las Vegas and London! I was a local color educator for 3 years. I specialize in colors, cuts, razor cutting and hair extensions. I love to build a relationship with my clients, helping them to find their perfect style, and educating them on how to do their own hair at home.
When not working, I enjoy traveling, love to watch sports, bake, do crafting projects, and garden outside. I am married, have 2 grown children, 2 grandchildren, and 2 kitties!
Marissa
Hi, my name is Marissa and I'm the newest stylist at Carter's. I recently graduated from Grafton High School back last January and attended Vici Beauty School located in Greenfield from March 2022 – March 2023. I currently live up in Campbellsport with my family, but plan on moving down the Grafton/Port Washington as the weather gets warmer. I am so excited to be starting my new career and begin working with my own clients soon. I absolutely love what I do, and making people feel beautiful is what drives my passion to be in this industry.
Olivia
I attended Aveda IBW in 2016 and graduated top of my class with perfect attendance. I've been a stylist at Carters for 6 years and prior to that, as a receptionist so I know the ins and outs of all things Carters Salon! My main passion is any type of color. I love creating depth with brunettes but also love lightening services like balayage/highlights. My family is my entire world, and I spend any spare moment with them. I recently had a daughter named Magnolia with my husband, Dylan, of 5 years who was previously enlisted in the Army and is now a Firefighter/Paramedic for the city of Port Washington. We are home body's and spend a lot of time at our families' houses cooking out, playing volleyball, playing with our dog, Apollo, or having Sunday night family dinners.
Reach out, make an appointment and let's get started achieving all your hair goals! I'd love to connect with you and develop a relationship!
Paige
I have been a stylist at Carters Salon for 8 years now. I moved to Grafton from a very small town in central Wisconsin and went to beauty school at VICI. My passion is cutting hair (men's cuts and women's) and customizing hair to the client's desires. I also love pleasing my clients with color and styles to give them the perfect finishing touches. I am an outdoors person; I love to go swimming, tubing, boating, snowmobiling, etc. I look forward to meeting you and giving you the perfect cut and/or color. 
Skyler
I graduated from VICI Capelli Beauty School in 2012 and joined Carter's Salon in February of 2016. With a total of 11 years now as a cosmetologist, I specialize in hair cutting, coloring, styling, and waxing! I have attended every class held at our salon and have even traveled out of state to take my education and skills to the next level, learning the latest trends along with extensive product knowledge classes. More than anything I love to make my clients look and feel their best! In my spare time outside of the salon I love to read, cook, hang out with my family, husband, and baby boy, and travel the country!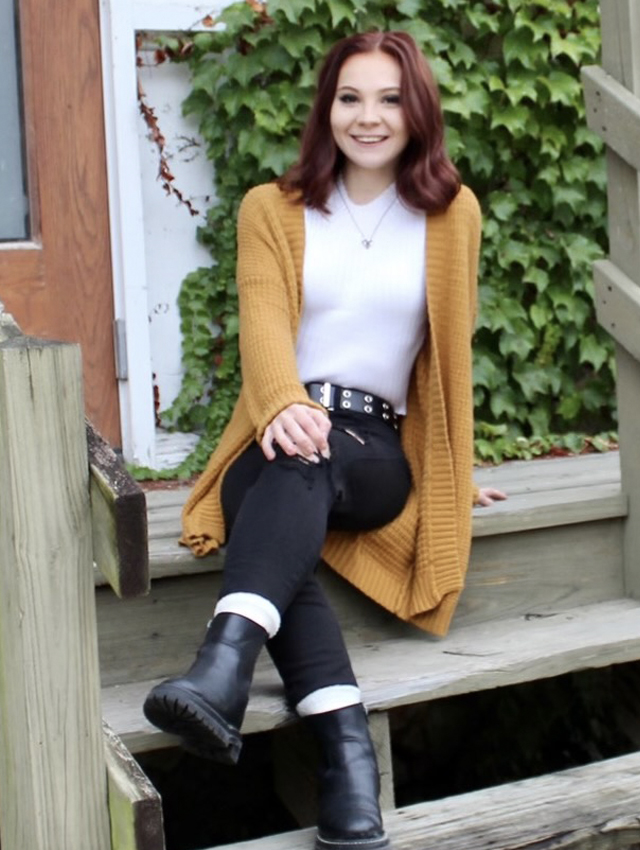 Genesis
Hi there! I'm Genesis and I'm the newest stylist at Carter's Salon! I graduated from Aveda IBW in August of 2023 and began living my dream here. I originally started out as a receptionist in 2021 and decided to continue my career as a stylist now. I love to provide all hair services, but balayage/ombré and men's cuts are my specialty! I am beyond excited to create unique styles for everyone in my chair! In my spare time, I enjoy being outside, spending time with my family, and or course playing with my fur babies! I look forward to connecting with my own clients very soon!